Mobile Deposits
Use Yampa Valley Bank Mobile to deposit paper checks using your phone's built-in camera. Don't forget to endorse your checks and write "Mobile Deposit" under your signature.
Mobile Deposit Tips
A few important items regarding checks submitted through Mobile Deposit:
- Mobile deposit requires a SPECIAL endorsement. YOUR DEPOSIT WILL BE REJECTED WITHOUT THIS ENDORSEMENT. You must endorse with:
Payee Signature or Business Endorsement (must match payee on check)
Mobile Deposit

(write these words under the signature)
Correctly Endorsed Example: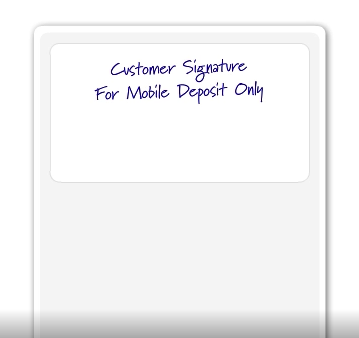 -You CANNOT deposit checks from foreign countries OR checks made out to someone not on the account. You cannot deposit a check signed over to you via mobile deposit.
- Mobile deposits are posted in real time. Restrictions and approvals may apply.
Lastly, hold on to your check until you know your deposit has been accepted. The bank recommends keeping the item for 7 days, and then shredding the item. Should you have any further questions, you can call us at 879-2993.
How to Complete a Mobile Deposit
Making a deposit on the go, is easy. First, login to the Yampa Valley bank mobile app. From "Deposit" you can deposit your paper checks as well as review your recent deposit history.
Follow these easy steps to complete a mobile deposit:
Begin by properly endorsing the check you will be depositing. You must endorse the check with a signature or business endorsement that matches the payee on the check

AND

write "Mobile Deposit." These recommendations are found in Federal banking regulations and help us identify checks that are deposited electronically.
When ready, select Deposit a Check.
Choose the account to make your deposit.
Enter the amount.
Photograph the check against a background that gives you strong contrast. Ensure the entire check is visible In focus, and well lit. When ready, tap the camera icon to snap your picture. If it's clear, use it.
Repeat this process for the back of the check. Once both images have been captured, make your deposit.
That's it! You can check the status anytime. Statuses include pending, failed and those which have been accepted.
When depositing checks using your smart phone, it is recommended that you write a note on the original document, reminding you that the check has been deposited. Then storing the document until you've confirmed it's been accepted, before safely destroying it.