We Power Community
Steamboat Springs
Yampa Valley Bank is grateful for the opportunity to power our communities by enabling our customers to succeed. Genuine Hometown Banking is more than just a tagline. It's truly who we are.

WATCH HOW WE POWER COMMUNITY
We're proud to be the only locally owned bank in the Yampa Valley
With oversight provided by a 15 member Board of Directors in Steamboat working in tandem with a 12 member Advisory Board in Craig, Yampa Valley Bank operates with a community-first standpoint right down to its foundations. We have a unique and unmatched passion for the area and its residents thanks to 72 investors with ties directly to the Yampa Valley. Our team members at all levels, from board members to tellers, serve over 40 local non-profits and we happily provide financial support to a number of organizations within both Routt and Moffat County.
Construction Lending, A Yampa Valley Bank Specialty
As the only locally owned bank in Steamboat Springs, Yampa Valley Bank is committed to providing our customers the means to achieve their dreams – whether that involves building your dream house or expanding your business. YVB's loan team are proven experts on real estate in Steamboat and work quickly and efficiently to provide the financing you need with competitive terms.
We provide local knowledge, local underwriting, and local decision-making. What truly sets Yampa Valley Bank apart, however, is that we bank on people – we prioritize the relationship and understanding the needs of each individual customer so we can truly tailor loans to your needs. Providing a solution to your unique situation is our greatest strength. Give us a call or stop in to learn more!
Steamboat Pilates Yoga & Fitness
Wendy Puckett and the women of Steamboat Pilates Yoga & Fitness are a true inspiration in the valley. They fully embody what it means to work and live in Yampa Valley, and help to make our community stronger. We are proud to have Wendy call us her bank.
Steamboat Pilates Yoga & Fitness Video
Steamboat Pilates Yoga & Fitness works to help and inspire every client to discover their strength in a whole new way. Wendy and her team believe there is a deep strength in everyone and they can help you find that connection and make it stronger. They believe that strength starts from within, and they care about your stories, goals, families and heart. They can make a difference in your life by helping you get strong, aligned and balanced. Whatever you can do in the studio, you can take it into your life and stand strong mentally and physically with whatever life throws at you!
We at Yampa Valley Bank are proud to partner and work with businesses like Steamboat Pilates Yoga and Fitness. Over the past 19 years, we have been able to sit down with Wendy to help map out her business strategy, plan for multiple renovations, and work through the pandemic with PPP loans. We cant wait to see what the next 19 years can bring. By supporting and investing in small businesses like Wendy's, we strive to empower our community.
"When I think about what a local bank can do, and how connected you are in the community, and what a difference you've made to all of us, It makes me emotional, and I am so grateful for all of you," says Wendy. "Thanks for everything you've done for Steamboat Pilates and Fitness. Thank you"
Harwigs, Fine Dining & Wine
After falling in love with Steamboat Springs on what was supposed to be a weekend trip, Jamie Jenny pursued his dream of opening his own restaurant at the age of 25. Established in 1979, Harwigs has been a community favorite for the past four decades known for its exceptional French cuisine. Located in one of Steamboat's oldest buildings, Harwigs boasts a constantly changing menu that is complemented by an extensive wine list of over 700 selections.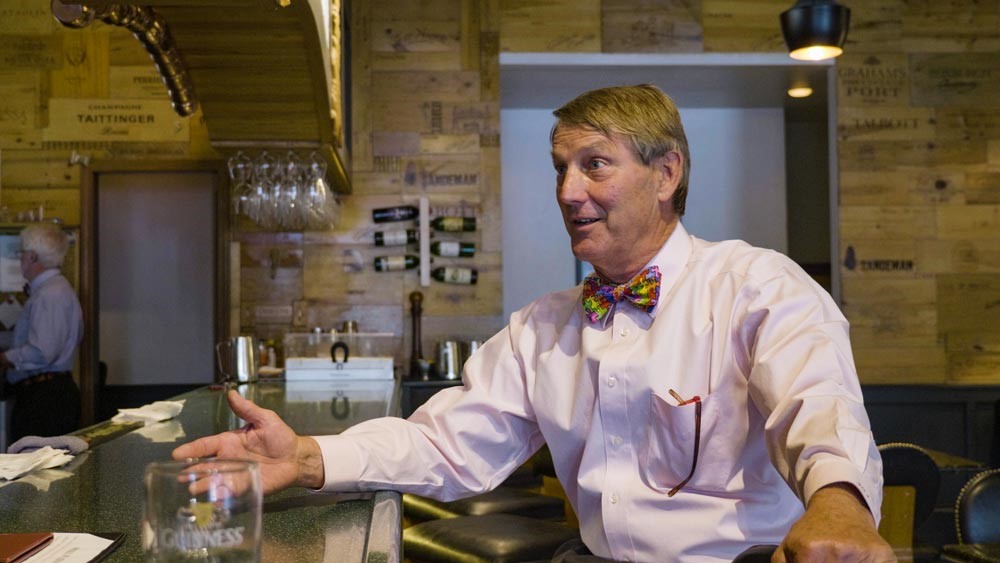 When asked about the secret to Harwigs' longevity Jamie says, "It's all passion. I love my job, I love my business and I love my community that I'm in." It is because of these shared values and passion that Jamie became involved with Yampa Valley Bank at its inception in 2001. For nearly two decades, Jamie has been a Board Member and has relied on the Bank's personal and business services.
Having grown up in the restaurant environment – with the occasional nap on the prep table – it's only natural that Jamie's son JJ developed the same passion for food and wine as his father. JJ, now Executive Chef at Harwigs, blends the traditions he learned from his father with modern cuisine techniques. Having grown up in the Yampa Valley, JJ also recognizes the similarities and shared values of Harwigs and Yampa Valley Bank. He says, "Very often, the same people that are sitting in our restaurant are the same people you see as you walk into the bank lobby. They're your neighbors, your friends and your co-workers."
The biggest connection between Harwigs and YVB? According to the Jennys: providing excellent customer service. Jamie explains, "The banking industry is just like the restaurant industry. It's that personal touch that is so important, and it's a matter of knowing your customers. Yampa Valley Bank embodies this philosophy. They are just as passionate about the community and people who live here as they are about your financial health."
As a business owner in Steamboat Springs and as a Board Member and customer at Yampa Valley Bank, Jamie has had firsthand experience with the way YVB puts the community first. He states, "The beauty of banking with Yampa Valley Bank is that your money stays in the community. That is what YVB a true community bank – it is locally owned, locally run, locally staffed and locally committed."
Johnny B. Good's, A Steamboat Classic
From its tiled floor to the walls decked out in 1950's memorabilia, Johnny B. Good's is the definition of a classic diner. Centrally located on Lincoln Avenue in Steamboat Springs, Johnny B.'s has been serving up delicious food with a side of family fun for 25 years.
Mike and Kathy Diemer opened the diner in the fall of 1993 with the hopes of providing parents and kids a comfortable place with quality food and friendly service. Mike moved to Steamboat five years earlier for the skiing. Kathy was on her way to California in 1991 when she stopped in Steamboat and – like many – ended up staying for good. Working as bartenders at the base of the mountain, Mike and Kathy developed their vision for Johnny B. Good's. Kathy says, "We realized there was a real niche that was open in town for family businesses – a place where kids can hang out and feel good."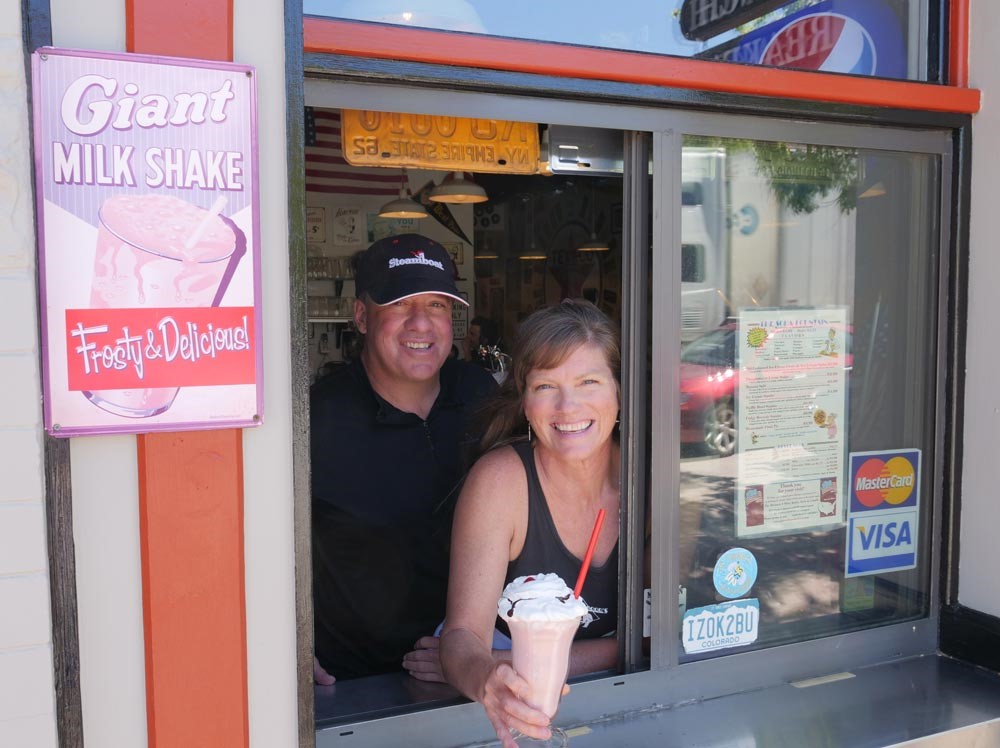 Johnny B.'s swiftly became a staple in the community. Business was booming, however, the Diemers ran into frustrations with their banking situation. "We were falling into big business banking, where the prices were always changing and the people were always changing," explained Kathy. In 2011, Mike and Kathy decided to pursue a relationship with a bank that is as invested in the community as they are – Yampa Valley Bank. When asked about his experience with the bank, Mike says, "The feeling that you get when you walk into Yampa Valley Bank is what we strive to have people feel like when they come into the diner – you come in and you're welcome."
After the Diemers started a family of their own, they realized it was time to move from Stagecoach into town. They had instant luck finding the house, but ran into problems making progress on a mortgage until they connected with Yampa Valley Bank about a loan. Mike recalls, "Yampa Valley Bank guided us through the process with confidence from the beginning. We went from feeling that it was as difficult as it could be to as easy as it could be." With the purchase of their home in town, Mike and Kathy went from having a 40-minute daily commute to a 2-minute walk to the diner. Kathy states, "We can't even put into words how much that's helped our business."
An additional perk for the Diemers: knowing that banking locally means their money will stay in the Yampa Valley. Kathy says, "Knowing that the interest we're paying on our loan stays right here in the community – it's really the best way to do business." Mike and Kathy now have an all-in relationship with Yampa Valley Bank, beyond Johnny B. Good's and purchasing their home. They have accounts for businesses they own in other parts of the country, as well as savings accounts and CDs for their kids. Mike claims, "I know if I have an issue, large or small, I can go to the bank and it will be dealt with like I'm their main focus of the day."
When asked about the success of Johnny B. Good's, Mike and Kathy firmly believe that it is the community who has made the diner what it is. From a focus on excellent customer service to giving back to the community, Johnny B. Good's and Yampa Valley Bank have much in common. As Mike states, "Both are powering the community and being powered by the community."
Winona's, A Locals' Favorite
For almost 30 years Winona's has been a locals' favorite in Steamboat Springs, known for their breakfast and lunch menu – which is both delicious and affordable – and for their tasty cinnamon rolls. What's their secret to success? According to owner, Jamie McQuade: the people. When asked about what she enjoys most about the restaurant, she says, "I don't know if I could do it without all the people – I love the interaction with all the regulars and all the employees. We have some employees who have been here for more than 10 years." Jamie herself had been working at Winona's for over a decade when she purchased the business in 2004, a move she describes as a natural fit due to her passion for the business and the people.
Her tenure as owner, however, has not been without ups and downs. In July 2010, the kitchen floor collapsed due to a combination of grease trap and plumbing issues, causing Winona's to close for two of the busiest months of the year. Because Jamie was renting the building, she had to talk the owners into fixing the issue and going through the tenuous process of getting the aging building up to code. Jamie explains, "I truthfully thought I was going to lose my business at that point. That was when I first established a line of credit with Yampa Valley Bank – they really helped me through that time."
This line of credit was not Jamie's first experience with Yampa Valley Bank, having opened a business account shortly after buying Winona's. She elaborates on her history with the bank, saying, "I've had personal accounts, business accounts, personal lines of credit, business lines of credit. They've been really great to me the whole time that I've been with them." Jamie credits Yampa Valley Bank, her hard-working employees, and her loyal customers for helping the restaurant thrive during the "ups" and survive through the "downs."
When the owner of the building offered to sell in 2016, Jamie decided to apply for a Small Business Administration (SBA) Loan to help her make the purchase. Jamie explains, "It's something that I've always wanted to do. I wanted to make sure the investment I made in 2004 was protected. I was nervous about the building, the lease, and the longevity of the business." Over the course of a year she worked with Yampa Valley Bank on the SBA Loan – a difficult and lengthy loan to pursue. Despite an initial denial, the loan was finally approved in March of 2017, and Jamie's dream of owning her business and the building were realized. Jamie states, "Yampa Valley Bank is the reason I was able to purchase the building. When my first application on the SBA loan was denied, they went to bat for me."
When asked about her banking experience through the years, Jamie believes that – similar to her business – it is the people that make Yampa Valley Bank special. She says, "Yampa Valley Bank is unique in the banking world. They help people based on the people, and they power small businesses like mine."
Gerber Berend Design Build, Home Construction Company
If you read our last story about the Flanigan family's tragic house fire and the rebuilding that followed, you've already heard how Yampa Valley Bank and the Steamboat community came together to care for a family in need. Now get the story from another perspective – from the builders who designed and built the Flanigans' new home.
Hans Berend VideoGB Design Build Video

Hans Berend and Jeff Gerber are the partners behind Gerber Berend Design Build, a full-service custom home architecture and construction company. One of their fundamental values is that they take care of their clients from the initial design process, through construction and move-in to their new home. Designs are based on clients' individual visions, needs and budgets. GB Design is connected with many who live in the Yampa Valley, not just through their work, but as friends and trusted advisors.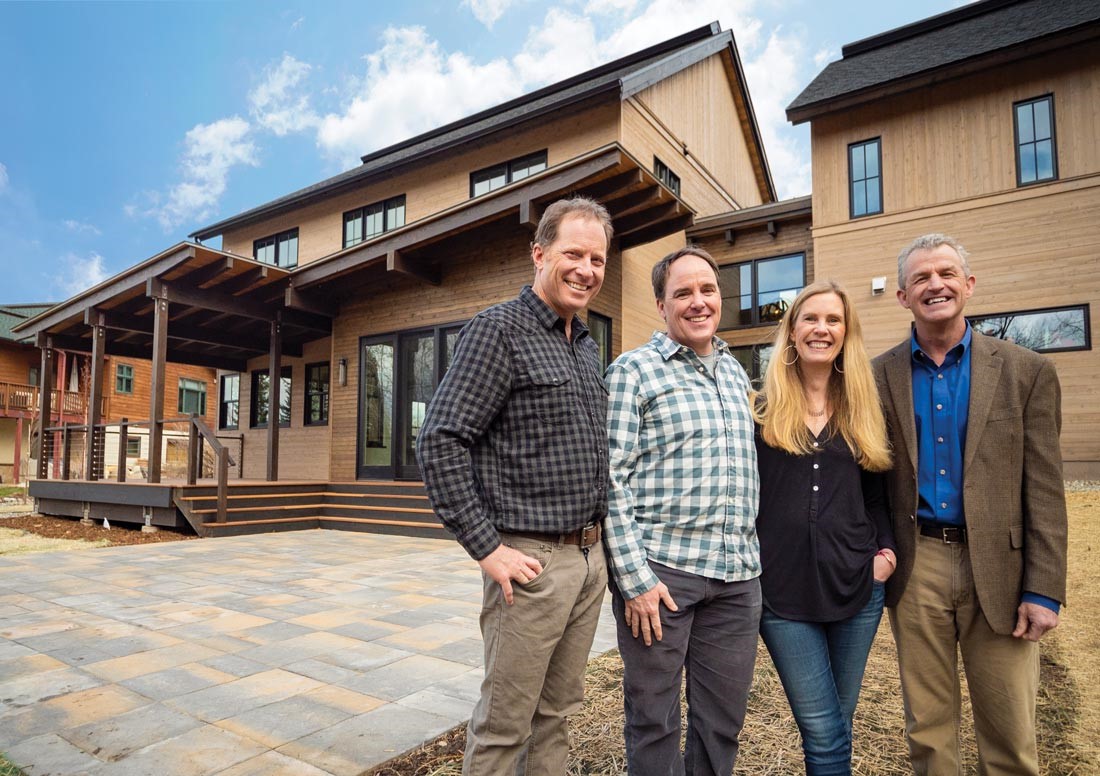 One such connection is between the Berend family and the Flanigan family. "I've known Millie and Gardner Flanigan for almost 30 years." Hans Berend explains. "When my wife Heidi and I moved to Steamboat, they were some of the very first people that we met. Millie is a focal point of our health community. She's the family practitioner that many of the people in this town go to see. She's well known. She's that person you can call in the middle of the night. She's that person who's just there for everybody. If anyone deserved some love and care from the community, it's certainly Millie."
Regarding his friend Gardner, Hans has this to say: "Gardner is the voice of Steamboat. He's the announcer for both the 4th of July and Winter Carnival. He's in the thick of it. He embodies what Steamboat is. He's the perfect person to receive the kind of support that this community can give."
When a fire burned the Flanigan's home to the ground last year, Gerber Berend was ready to come to their aid. "We all knew what a challenge it was going to be for them, with young kids and careers," said Hans. "We got together right away and said, we have to figure out a way to rebuild their home as soon as possible."
The support was immediate, says Gardner Flanigan, "Right after the fire, even as I was pulling into the driveway to look at the aftermath, I got a phone call from Hans Berend, and he said, 'Hey! We're going to rebuild your house. Yup! We want to get it done. We need to get you guys back home,' which was awesome because I'm looking at this house that's not there anymore and Hans is telling me, 'Don't worry. It'll be there again.'"
Since Yampa Valley Bank has often partnered with Gerber Berend on building projects, Hans was sure they would be the right choice for the Flanigans. "PJ Wharton and his crew are so thorough. I just knew that Yampa Valley Bank had to be a key part of the team right away," he said.
The Flanigans, Construction Loan Customers
The Flanigans are like a lot of families who live in the Yampa Valley. Gardner and Millie met while working on ski patrol and have been married for 21 years. Together with their two kids, Bodie and Marrot, they can be found day-to-day in Steamboat Springs doing the same things many families do – going to work and school, grocery shopping, taking part in Winter Sports Club, enjoying all that Steamboat has to offer. By August 14, 2016 they had lived in their family home for 9 years. Perhaps it's because they are so relatable that when tragedy struck on that fateful day, its effect was felt not just by the Flanigans but as a wave of empathy that rippled through the community.
It was the last night of a trip out of state on a visit to see family. Gardner and Millie were in bed when Millie's phone rang. Gardner could tell that the voice on the other end was delivering a serious message but when he saw 15 missed calls on his own phone, he knew something was very wrong, and that it involved him too. The news came as a complete shock – a fire had started in their home and had burned it entirely to the ground.
"I think you hear something like 'there's nothing left of your house' but your mind plays tricks like, 'Well there's got to be something left'. There was nothing left," Gardner remembers. The Flanigan's dog, Lola, was trapped in the house as it burned. She, along with everything but what they had packed for their trip, was lost forever.
Millie and Gardner shared what had happened with their kids and began what would be a heart wrenching journey back to where their house once was. As they traveled, messages of support came flooding in. Though the loss of their beloved pet and all their material possessions was a heavy and sudden blow, ultimately it was the generosity of their community that was most the most astonishing revelation to the Flanigans. By the time they arrived back in Steamboat, friends with open arms and a box of clothes were already waiting for them.
"The most surprising part was how quickly the support came in," remarks Gardner. "Someone started a GoFundMe site before we even got home. It was almost instantaneous."
Days turned into weeks, but the support continued. "One of the things that really touched me the most was there were these kids who would have lemonade stands and be out there with a big sign that said, 'For the Flanigans'," says Millie. "Then they would come up and give us a big bag of coins. It was amazing."
Even with all that, a harsh reality was sinking in for the Flanagan family. "We were underinsured," admits Gardner. The reality of building a new home in Steamboat Springs seemed overwhelming, especially when combined with the prospect of replacing all that had been lost in the fire.
Millie remembers, "We were worried that we might not be able to build a home. We really had a moment where the numbers didn't add up and we weren't in a position to come up with the extra money that we needed on our own." That's when they thought of PJ Wharton, President and CEO of Yampa Valley Bank. Though the Flanigans hadn't been customers of the bank in the past, PJ felt a bond with them through their shared community. "He had reached out to us right after the fire and said, 'How can we help?' "
When it comes to matters of finance, it's tempting to be cynical, to think of relationships only in terms of what each party stands to gain or lose. But for PJ and Yampa Valley Bank, the desire to help neighbors in a time of need was what guided their actions. "The challenge is, we're responsible as bankers to do financial ratios, income analysis, and asset analysis, but in a case like this it is about the people and doing the right thing," PJ says.
Together, PJ and the Flanigans found the path to move forward. "We walked in. We sat down in front of PJ and said, 'Here's where we are. We need to figure out how we can build this house. We want to get the kids back home.'" Millie recalls the surprising ease of that first meeting. "He said, 'Great! Let's do it.' He did not say, 'Well, we'll try.' He just said 'We're in.' That's unusual. That doesn't happen in every bank. That moment changed everything for us because we realized our biggest fear, which was not being able to rebuild, was suddenly going to be okay."
"We really, frankly, counseled them through the process," says PJ, remembering what it was like to work together. "We said 'here are the decisions you need to make, but end result is that we'll get you there.' "
For PJ, this moment was emblematic of his passion for community banking. "What I'm most proud of is to work for a community bank, Yampa Valley Bank, that has a board, that has investors that would all say, 'You know what? It's time to do the right thing.' I'm really proud that we could do that."
A bank with such a deep connection with the community it serves can be a rare thing. Gardner says it was an easy decision to choose to work with Yampa Valley Bank. "I think there's a genuine concern and motivation for them to help grow this community and that it's more than transactional. Every bank probably greets you as you come in, but not every bank cares about Steamboat Springs so much and the people who live here."
When asked if she would trade the loss of her home for the experience of support and rebuilding she's had, Millie is sure she wouldn't. "No. It's surprised me but I wouldn't. Our kids have said that too." She remembers what her son, Bodie, told her during their first Christmas celebration in their new home. "'It's been amazing.' He said, 'I've learned so much about what it means to take care of people. We've been so taken care of.' "
In the end, what started as a tragedy became a force that forged deeper connections throughout the community and taught valuable lessons. "I think what we learned through this fire is what really matters is not your things, it's relationships. It's people, and it's love." Says Millie. "We didn't build this house, the community built this house. Yampa Valley Bank, in particular, represents that community."