We Power Community
Craig
Yampa Valley Bank is grateful for the opportunity to power our communities by enabling our customers to succeed. Genuine Hometown Banking is more than just a tagline. It's truly who we are.
We're proud to be the only locally owned bank in the Yampa Valley
We're proud to be the only locally owned bank in the Yampa Valley. With oversight provided by a 12 member Advisory Board in Craig working in tandem with a 15 member Board of Directors in Steamboat, Yampa Valley Bank operates with a community-first standpoint right down to its foundations. We have a unique and unmatched passion for the area and its residents thanks to 72 investors with ties directly to the Yampa Valley. Our team members at all levels, from board members to tellers, serve over 40 local non-profits and we happily provide financial support to a number of organizations within both Moffat and Routt County.
Moffat County United Way
We Power Community reflects Yampa Valley Bank's efforts to serve our customers and put the Moffat County community first. Likewise, Moffat County United Way (MCUW) powers the community in the most crucial way - by providing support services to individuals and families in Moffat County. With a local board of 19 community members and business leaders, the MCUW has provided funding for critical health and human services since 1978. Kristen Vigil, Executive Director, explains the United Way's impact saying, "More than 1 out of every 4 Moffat County residents are reached through the funding we allocate to our member agencies."
One of the unique reasons why people love to support United Way? All charitable dollars given to MCUW are spread over a multitude of local organizations, eliminating the need for donors to choose whether to donate on an organization-by-organization basis. The MCUW raises funds for more than 50 organizations in Moffat County, such as Northwest Colorado Health, Moffat County Cancer Society, Bear River Young Life, and the Boys and Girls Club of Northwest Colorado.
The Moffat County United Way has also created several resource programs that are essential in aiding the community. The Community Impact Program, for example, works to address poverty and economic hardships locally, while the Human Resource Council was formed to support health and human service agencies to collaborate in services and increase awareness regarding community service needs and activities. Additionally, the Youth United Way program serves to teach high school students the importance of philanthropy and the nonprofit sector.
In order to run such a successful and impactful organization, the United Way relies on the kindness and contributions of the community members they serve. MCUW Board Member and YVB Mortgage Loan Officer – Audrey Anna Masterson – describes, "It is a privilege to serve this amazing organization and see firsthand how the success of MCUW is made possible through donations from individuals, employees and businesses throughout our county."
As an organization that shares the priority of putting the community first, Yampa Valley Bank is once again hosting the Annual Giving Campaign Kick-Off for the 4th consecutive year. $15K Day marks the beginning of the giving campaign season, inspiring community members to make a contribution; YVB provides a dollar-for-dollar match of up to $7,500 that the community donates. Vigil states, "The dollar-for-dollar match provided by Yampa Valley Bank is wonderful, as it helps people see that their donation has an even greater impact! The support the bank provides creates an opportunity for the community to celebrate and enjoy the process of donating to help our community."
Be sure to celebrate the kick-off of Moffat County United Way's campaign season at $15K Day on Friday, September 13th at Yampa Valley Bank starting at 11:30am. A free lunch will be provided by KS Kreations, and every donation of $25 or more will be entered into a drawing for $150 worth of Spree Bucks. 100% of the contributions will provide services to residents of Moffat County.

Boys And Girls Club of NWCO
All kids should have the opportunity to be great, and that is exactly what the Boys and Girls Club of Northwest Colorado aims to do. Established in 2003, the Craig Club enables and inspires community youth to reach their full potential as productive, responsible and caring citizens. Through an Afterschool Program, a Summer Program, and Play Days on select school days off, the Club provides a place for kids to go and participate in educational and fun youth-development programs. After seeing the positive impact these programs had on her own three children, Yampa Valley Bank's Catherine Blevins became a board member for the Boys and Girls Club. She expressed, "It is a privilege to serve this great organization because I recognize the Club's importance in helping all kids grow and thrive."
In order to keep costs affordable for families, the Boys and Girls Club receives support from the community it serves. The Yahoo Golf Tournament and Ball Drop is one such event that has raised thousands of dollars to benefit the Club over the years. This event was started in 2001 by Tom Knez in memory of his late brother. Tom was later joined in his efforts by Dan Severson in honor of his own late father. Since 2004 the tournament has featured a signature and unique take on a raffle – the Ball Drop, during which numbered golf balls are ejected from an airplane onto the Yampa Valley Golf Course. Event attendees who have purchased the balls earn prizes based on proximity to a target.
Over the first decade of the Yahoo Golf Tournament and Ball Drop proceeds were raised for various local nonprofits, many of which supported local youth. Tom and Dan say, "We have a special feeling for kids from all walks of life, especially the kids who are in need." Because of this passion for helping the youth of Moffat County, a partnership was developed with the Boys and Girls Club in 2010. Since then, the tournament has raised $96,300.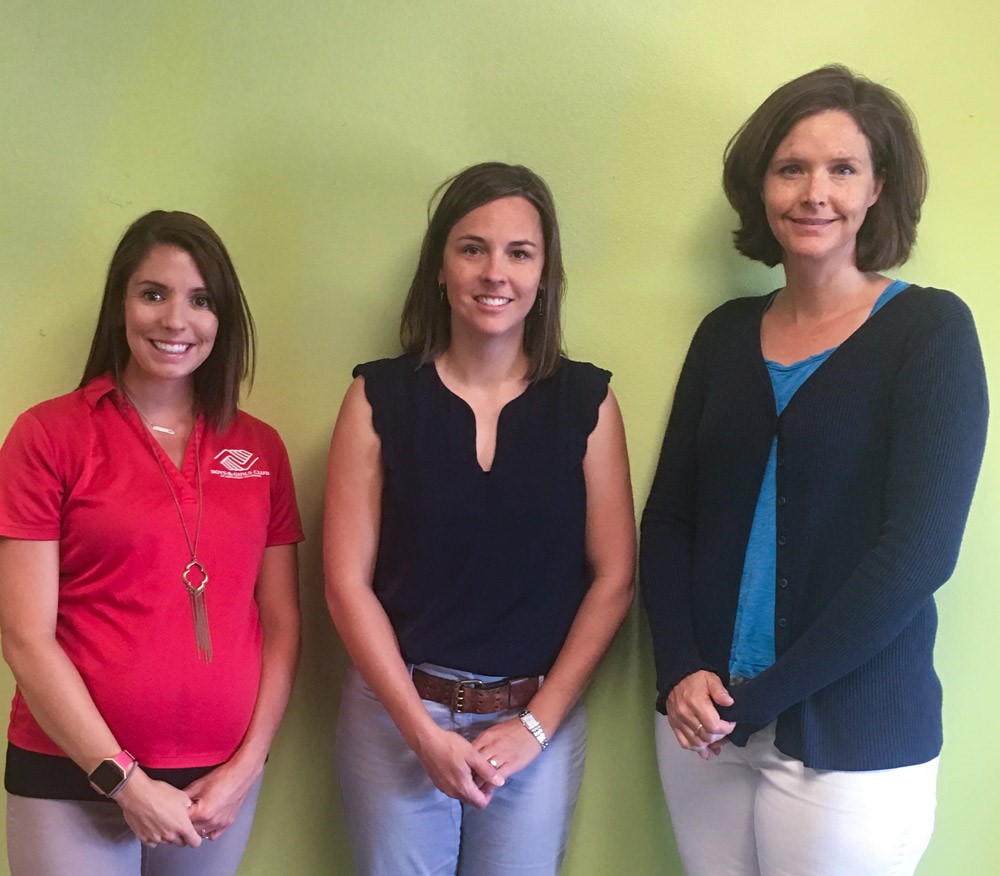 Kari - Unit Director, Dana - Executive Director, and Cathrine - Board Member
As the hometown bank, Yampa Valley Bank is proud to continually support community youth as a sponsor of both the Boys and Girls Club and the Yahoo Golf Tournament. According to Dana Duran, Executive Director of the Boys and Girls Club of Northwestern Colorado, YVB's support has tangible results in their programming. She articulated, "Our backing from Yampa Valley Bank is a showcase of their support for the community. With their help we are able to support 50% of the youth population here from 6 to 14 years of age. That's a real impact."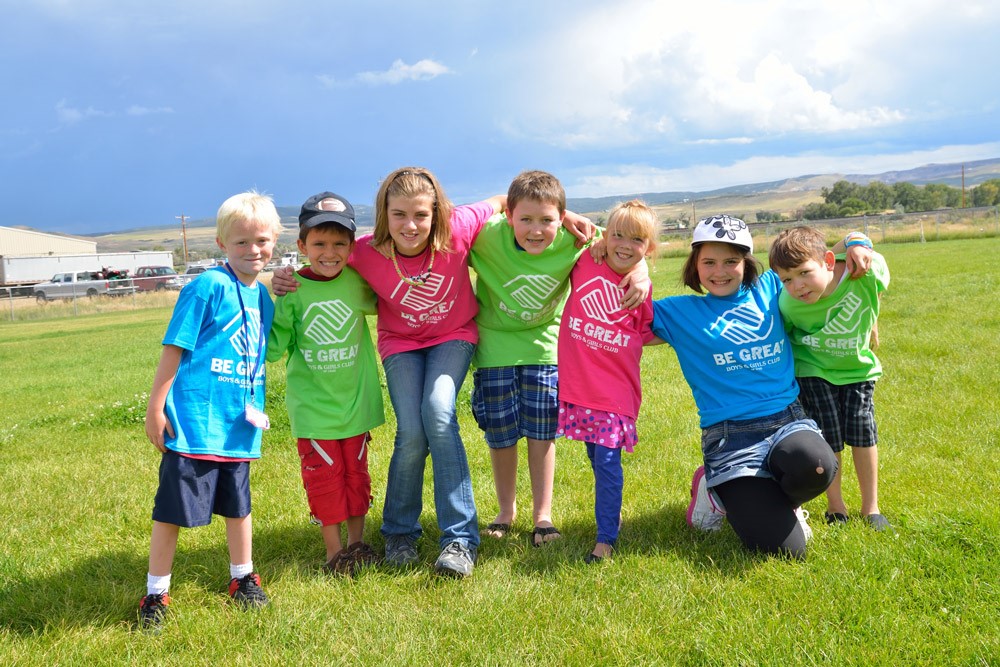 Many YVB employees have directly experienced this impact by sending their children to the Club for afterschool and summer programs, which include activities designed to enhance self-esteem and develop individual potential while having fun. When asked about her experience with the organization, Ashley Leray said, "The Club provides my family with a safe environment to send my daughter where I know her day will be full of exercise, crafts and friends that she wouldn't be able to get anywhere else." Jen Ridnour echoed these sentiments, saying "The staff are always so friendly and know each child by name. It is such a valuable asset to our community." She also speaks highly of the junior staff program, which allows teens to work with and lead younger children.
It is clear that for YVB staff and the community at large, the Boys and Girls Club is an invaluable community resource. This relationship is one of mutual respect and appreciation. Dana Duran states, "Yampa Valley Bank provides a high quality of life for the whole community. With their support, we are able to provide a safe and positive place for the kids of Moffat County."
Support the Boys and Girls Club of Northwest Colorado by attending this year's Yahoo Golf Tournament on Saturday, September 8th!
Bear River Young Life
When Dave Pressgrove moved from Kansas to Craig, Colorado in 2002 to take a job as the sports writer for The Craig Daily Press, he did not know that his life and career would morph into a something totally unexpected. A recent college graduate, Dave began his new life as the sports writer and editor for the Craig Daily Press. He spent much of his time working with and interviewing Moffat County school athletes. It soon became clear that this was where his life's passion was leading him. While continuing to work as the sports editor, Dave became a volunteer for Young Life. In that role, he became friends with many of the teens in Moffat County. "I realized that my purpose for moving away from my roots in Kansas was to serve the youth in our valley," said Dave.
In 2005, Dave took a job as part-time area director for Bear River Young Life. Dave married his wife Jennifer in 2006 and they now have five children; Ryun, 8, Jonas, 7, Finley, 5, Charis, 3, and Dash, 1-1/2. With a growing family, in addition to his friends in Young Life, it would be an understatement to say that kids are his life. In 2008 Dave took the leap to full-time area director of Bear River Young Life. He said, "Eventually I left the paper, where I wrote stories about them, to hopefully help be a part of their story as a mentor and as a director of other mentors in their lives. My goals are to continue to reach teens and help them in their development toward adulthood – and along the way, point them to live life to the fullest through their faith."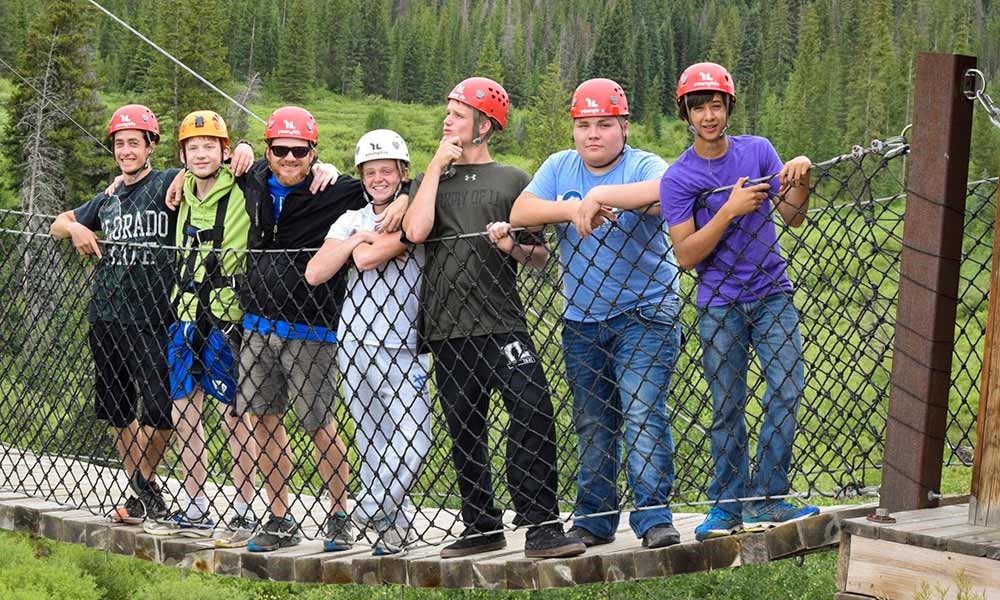 "Support from community leaders and businesses is key to the success of Young Life," says Dave. "Donations go directly to our youth to provide opportunities for them to attend the Young Life winter and summer camps. The camps are the cornerstone of the work Young Life does with students. 80% are more likely to become consistent in the program if they attend the camps." Dave says, "Additionally, we tell them it will be the best week or weekend of their life or they get their money back… we haven't given a refund yet."
Just like Dave and Bear River Young Life, Yampa Valley Bank is committed to making local youth a priority. By supporting Bear River Young Life, YVB is supporting the betterment of our community through the positive development of its youth. In 2014, Yampa Valley Bank partnered with Young Life to become the presenting sponsor of the Bear River Young Life Car Show. The event takes place every year over Father's Day weekend and benefits Bear River Young Life. Car and motorcycle collectors register all shapes, sizes and conditions of vehicles. Their entries line the streets in downtown Craig along Yampa Avenue. There are more than 14 categories judged, and trophies for the winners. All entrants are eligible for a cash drawing at the end of the show.
With the event growing due to Yampa Valley Bank's commitment to partnership, another key component was added to the weekend: the Friday evening kick-off event, hosted by YVB. Contestants and community members are invited to attend a delicious, free BBQ that takes place in the bank parking lot. After the BBQ, contestants cruise the city - beginning at Yampa Valley Bank and ending at Loudy Simpson Park. "This will be the fourth year for the BBQ. When we started the car show in 2004 it was a one-day event. When Yampa Valley Bank teamed up with us as the presenting sponsor we realized a way to make it a two-day event," said Dave. "Many of the bank employees are involved with Bear River Young Life, so this was just a natural fit."
Yampa Valley Bank's involvement in the community isn't limited to special events though. It all starts with supporting the needs of every day people in their home town. With a growing family of seven, Dave and Jennifer were in need of a larger family home. In June of 2017, with the help of Yampa Valley Bank, the Pressgroves were able to purchase a new house. "We have been in the middle of remodeling ever since." Dave said, "We wanted to go with YVB for the purchase of our house because of how supportive they've been to BRYL and in the community. In the end we were grateful for how it all worked out."